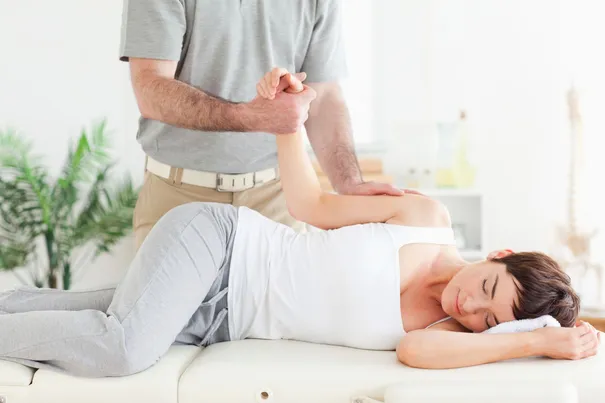 Chiropractic adjustments are an all-natural method of realigning and balancing the vertebrae of the spine. This technique is beneficial because it helps relieve patient pain and improve patient health. Whether you're injured or suffering from a chronic condition, your chiropractor in St. Louis can help.
Benefits of Chiropractic Care from Our St. Louis Chiropractor
Chiropractic adjustments have many benefits, including:
Non-invasive. Unlike surgeries and other standard forms of medical treatment, chiropractic adjustment is non-invasive. This means that a spinal adjustment has little or no recovery time, and patients who receive spinal adjustments can continue with their normal, everyday life while seeing a chiropractor.
Natural. A chiropractic adjustment is all natural! Pain management techniques, like spinal adjustments, involve no addictive medications, so you can feel better and avoid injury while still acting and feeling like yourself.
Preventative. Spinal adjustments help realign the vertebrae of the spine and prevent the spinal column being pinched in the spinal column. This helps improve communication between the brain and the rest of the body, which reduces the chance of further injury.
Pain relief. Spinal adjustments help relieve the pressure on the joints to provide safe pain relief.
How Chiropractic Adjustment Works
A chiropractic adjustment can be done with a tool or by hand. This technique is generally not painful, and in fact many patients who receive chiropractic adjustments enjoy the experience. Spinal adjustments are typically administered to patients who lay on the examination table at the chiropractor's office. Different adjustments are given at different points on the spinal column, based on the needs of the patient.
Who Needs Chiropractic Adjustment
Everyone can benefit from a chiropractic adjustment, including:
Children. Children can benefit from chiropractic care just a much as adults! Spinal adjustment administered to children is designed to be extra gentle. This technique can help children get over bed wetting behaviors, can help treat symptoms of ADHD and can help children recover from injuries sustained on the playground and in organized sports.
Adults. Spinal adjustment for adults can help relieve muscle pain and treat chronic conditions. At Triad Sports and Family Chiropractic, our typical adult patients suffer from conditions like sciatica, whiplash, personal injury, occupational injury, repetitive motion injury, neck pain, back pain and more.
Pregnant women. Chiropractic care can help pregnant women manage their muscle and joint pain. Spinal adjustment can also help position the baby for the birth experience, reducing the chances of Caesarian section.
Seniors. Seniors are often at risk for chronic conditions and muscle pain. Chiropractic care can help seniors stay healthy and avoid injury.

Contact Our St. Louis Chiropractor
As your Clayton chiropractor, Triad Sports and Family Chiropractic can administer a manual adjustment or an instrument adjustment. If you're in need of a chiropractor in Clayton, contact us today at (314) 833-4600.